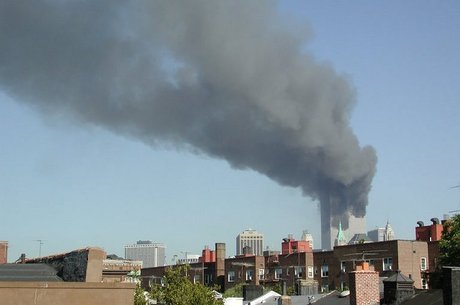 We all know what happened 6 years ago today. The incidents of Sept. 11, 2001 will be defining for our generation. When I was small everyone knew where they were when President Kennedy was shot. I always felt left out, because I didn't know where I was when that happened. I was only two years old.
For a while January 28, 1986 held some of this power as nearly everyone could remember where they were when the Space Shuttle Challenger exploded. September 11 has overshadowed all of these dates.
Democracy Now! is an award winning daily news broadcast that is currently being broadcast on 450 Pacifica, NPR and community radio stations around the country. In Portland it is broadcast on KBOO.
Broadcast from Chinatown in New York City, just blocks from Ground Zero, the daily news on Sept. 11 was interrupted in progress to report the attack on the World Trade Center. In this broadcast you will hear the news of the day for the first 48 minutes, then the broadcast is interrupted with the breaking news.
Democracy Now September 11, 2001
Democracy Now http://www.democracynow.org/
KBOO http://www.kboo.fm/index.php